I hope everyone had a wonderful Christmas. I feel that this one was one of our better ones overall. I mean a couple things happened before that could have put a damper on it, but it didn't. As many know my mom died on Christmas 6 years ago and Matt's dad passed two days after Christmas 3 years ago and two pets passed around then also, so this time of the year you can't help to miss these loved ones even more. This year everyone was happy and in high spirits, which made things so much easier.
Matt and I had so much fun with the girls this year. Bella is more aware than last and the look on their faces, when they got up was priceless. The first thing Alaina did was look at the milk, cookies and carrots. Then she ran to our bedroom and yelled, "Oh my goodness, oh my goodness, Santa ate the cookies and drank the milk and his reindeer ate the carrots!" It was soooo freaken cute! lol
Bella just looked at all of those gifts with confusion. Once they started opening them, there was no stopping her though. She wanted them all open right then and there. Alaina had a few opened by sissy on accident, but she didn't seem to mind because she got to help her as well.
Santa came!
Showing Bella that Santa came
Bella is ready to go haha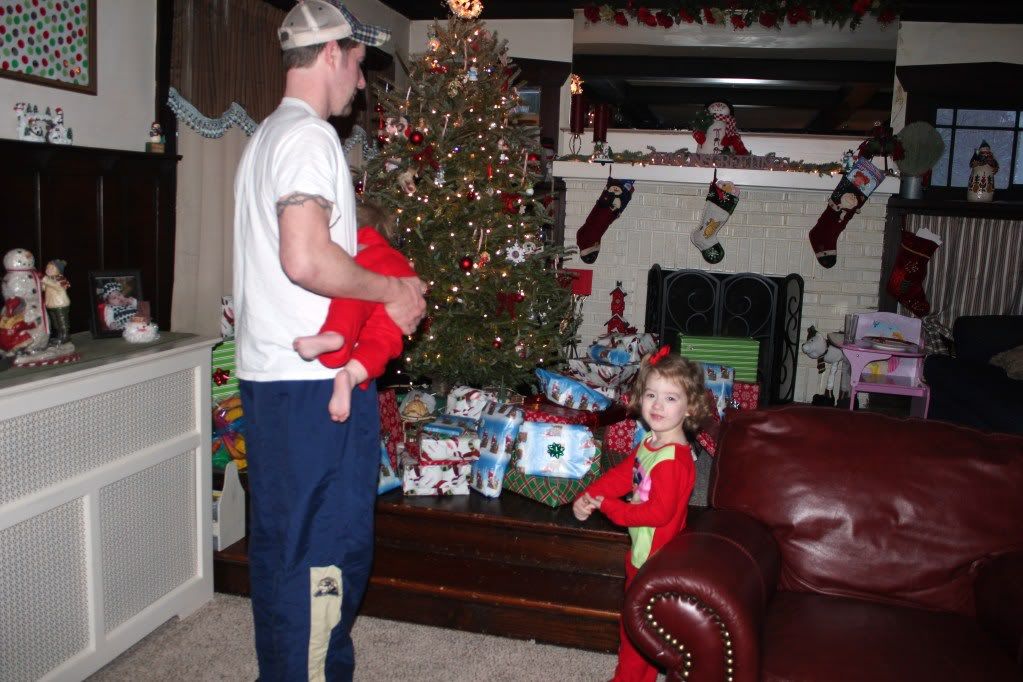 Let's get this party started :)
Merry Christmas Alaina and Bella!
All of that time and hard work was so worth it after seeing those surprised faces with each gift they opened. Matt and I just smiled at eachother, because it was just so awe-inspiring. I couldn't help to get giddy on what the future held for us at that moment.
There were our two little girls with their own identities. They are so different, but get along so well. Alaina is bashful yet very animated and Bella is outgoing and full of humor. And even though their personalities are different they are still very much alike. It was amazing how they included eachother with every gift that was opened. Bella would walk over to her sissy and show her what she got and Alaina would yell for Bella to come look what Santa brought her. Then they would sit there and share without even thinking about it. It just amazed me how blessed we are. :)
opening gifts on Christmas
Look at that expression lol! Love it!
How did Santa know I wanted that one?
Bella also liked it hahah
Are you sure you got me this daddy? ;)
Giving sissy the gift she got her
Opening the gift sissy got her
They got eachother baby princess dolls
Breyer horse barn
She loves her babies
A barbie mustang
Daddy got me hockey skates!
Bella and mommy
Look at that mess!
Mommy got me a camera!
and a barbie carriage/hot air balloon
Stockings
Enjoying her mustang
Taking pics at the same time :)
Matt playing some angry birds
Enjoying her castle
She's a natural
In their Christmas dresses
Matt's gift for me came on Christmas Eve, which he was thrilled about, until he looked at the box. That box looked like someone dropped it off a tall building and it landed in the snow, then taped back shut. I felt so bad, because he was upset that my surprise was ruined, but I didn't care. I was more excited that I would eventually be getting one. It turned out to be a good thing though, because that one was out of stock, so they gave us a much better one for the same price.
This is how the box arrived on Christmas Eve
Bella seemed to enjoy it lol!
Then the inside was even worse. Everything was wet or cracked
Matt also surprised me with a beautiful gift at the bottom of my goodie-filled stocking. I couldn't believe he remembered that one little comment I made months ago about how pretty that necklace was on tv. I love it so much! Then to make it even more meaningful, he wrote how he got me this necklace, because I hold the key to his heart and forever will. I couldn't help to tear up after reading that. Oh! and the girls got me a really nice dress coat that fits me nicely. I am one lucky lady. <3
Anyways, after the gifts were opened and I made Christmas breakfast for everyone, we got ready for my Grandma Ross's house. My dad's side of the family is HUGE!!! It's really nice to see everyone and let's just say there's never a dull moment haha. I love the craziness of it all though. That's what the holidays are all about haha. Plus my sister got to be with us for the day. :)
Bella with her Great Aunt Deb and Great Uncle Tim
Bella with her Uncle Justin
Bella with her cousin Steph
Alaina and Lexi, the Christmas princesses
Then it was to my dad's house for dinner and to exchange gifts. It was a nice way to let our bellies settle and relax.The girls got spoiled once again. Ethan loved his gifts as well. While the kiddos were occupied trying them out we watched Christmas movies and chatted among eachother.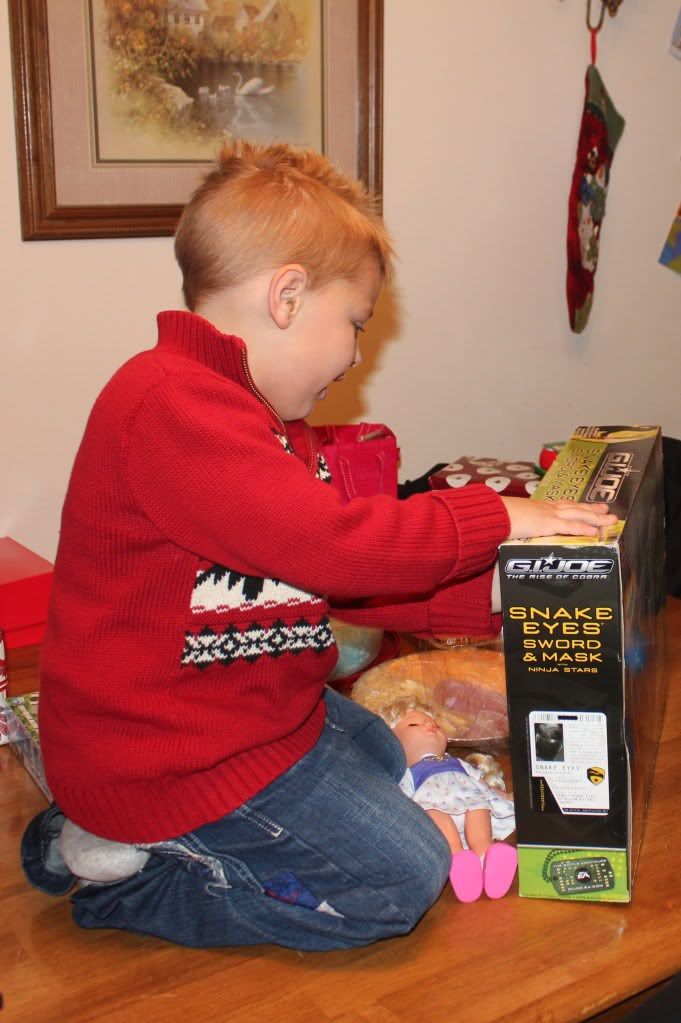 Ethan opening gifts
Alaina with her Aunt Kelly
Another Christmas Princess
Thank you pappy for the activity table, sweeper and slide!
Alaina with Aunt Kelly
Thank for for the Leapster and games pappy!
Ethan and Uncle Matt
Bella loves Lucky
We got dad a GPS for Christmas, so now he can stop talking to himself lol!
He liked it :)
With my girls
Bella and mommy
Ethan and Uncle Justin
My brother on Christmas
My family :)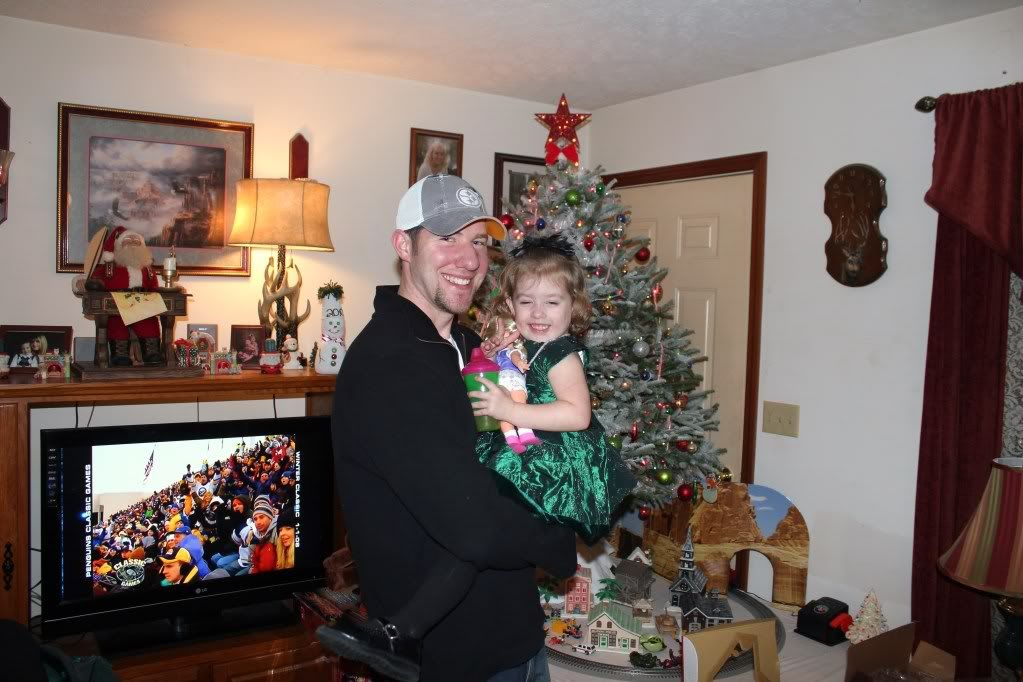 Alaina and Daddy
Alaina with her 2nd cousins Clay and Tanner