Last Saturday (2/5/11) we threw my dad a 50th birthday party. It was so nice that all of his brothers and sisters came. I know that meant the world to him. We don't see much of eachother except on holidays, so I cherish these times we get together.

My dad told me that it turned out better than he ever expected, which made me feel good. We had a nice spread of food and he even got a bunch of awesome gifts! Thank you to everyone who came and made sides. It was great seeing you all and the food was delicious! Happy 50th Birthday Dad! We love you!



The beautiful food spread






Alaina was shy at first




Bella and daddy






Alaina with her pappy, the b-day boy




Opening gifts



With Great Aunt Kathy


My dad LOVES Penny's peanut butter fudge, so she was kind enough to make a big container for him.




Bella with her Great Aunt Deb


The girls with their great gram and great aunt


The girls wanted to help pappy





The birthday boy



Bella dancing haha




Bella loves her Great Aunt Kathy




50 mug!




Aunt Kathy got her brother Super Bowl tickets!!! JK! LOL! That was a great idea though.




Justin and Amanda




He got a lot of funny b-day cards :)




I've been using this for years haha




Happy Birthday to you!


Make a wish!




Bella with her Great Uncle Tim




Saying bye to Great Gram


2/5/11


Can't forget Tom :)




Does the party have to end?

The favor bags I made for the party. I was trying to come up with something funny. My dad's nickname is Boo, because he cried a lot when he was a kid and diapers are also a gift people give at milestone b-days, so I thought I'd use diapers. I called them The Boo Bag haha.

They are diapers filled with different chocolate bars. All I did was hot glue the diapers together, added a handle by punching two holes in the back and tying a knot then added the labels on the front. They thought it was funny.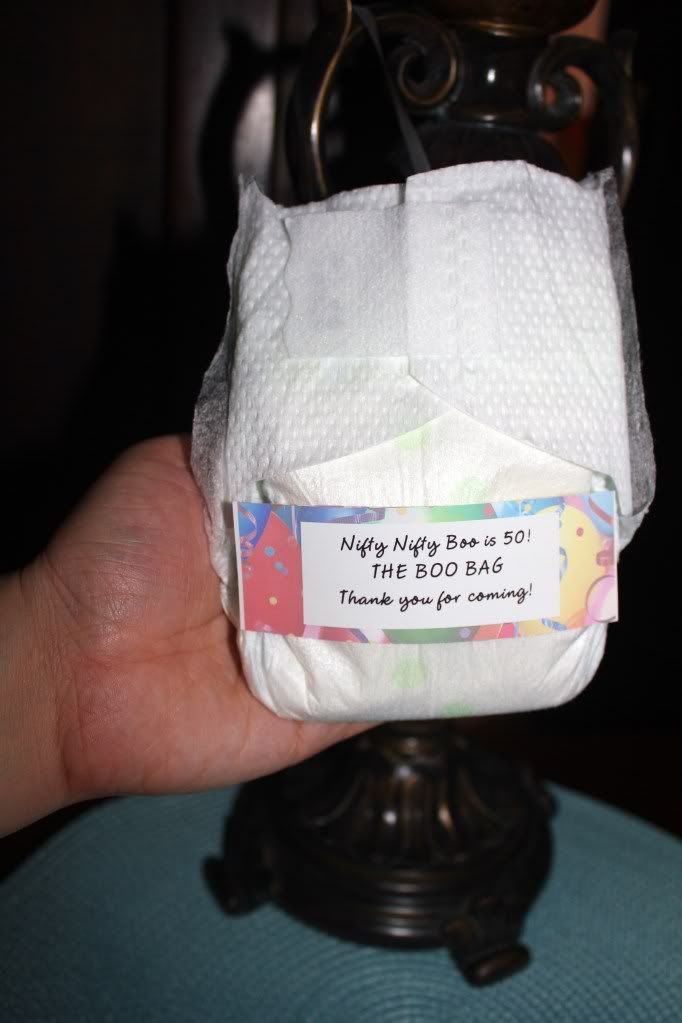 HAPPY 50th BIRTHDAY DAD!!! I HOPE IT WAS AS GREAT AS YOU ARE! I LOVE YOU!